What are the best ideas for naming a company?
Choosing a brand name for your business is one of the toughest decisions you'll ever make as a business owner. Your business name reflects everything about your company.
In this article, we'll walk you through the importance of .com domain extension, what to consider in naming your business to how you can trademark your company.

Why You Should Always Target the .com Extension
While choosing a brand name is critical for your business, you should also consider your other branding asset including your domain name. To better understand how it can impact your business, let's discuss first what a domain name is and its parts.
A domain name is a unique web address. It consists of three parts: a top-level domain (domain suffix or extension), a domain name (IP address), and an optional subdomain.
Now, let's focus on the domain suffix or extension. Users are far smarter these days as they give importance and meaning to these extensions.
The .com is the oldest and the most common domain suffix used by most businesses. Recent research revealed that 52.3 percent of websites use the .com TLD.
For them, the .com TLDs are a stamp of the legitimacy of a business. It can affect the click-through rate (CTR), traffic, and the search engine optimization score of a company in the long run.
This is the main reason why the .com URL extension carries more value for businesses. People see them as authentic, giving businesses a seal of trustworthiness.
A .com in your URL is very important for these reasons:
It highlights the credibility of your brand.
The .com URL extension is always associated with the credibility and authenticity of a business. People trust it so much, and so if you're going to use it for your domain name, it will surely boost your business' value proposition.
Google, Apple, and Amazon all use the same .com extension. If people see you using the same, they would be more than willing to listen and recognize you as a trustworthy brand.
More than 50 percent of brands use .com.
As we mentioned earlier, more than 50 percent of brands are using the .com for their domain name. Most users trust and find it valuable.
Using it for your business name will give you an edge over your competitors. Since users trust brands that use it, you'll establish your brand and online presence as well.
It is memorable.
The .com extension is easy to remember. People who are searching your business on the search bar are more likely to assume that you're using .com for your website.
A study revealed that the .com URL extension is 33 percent more memorable than other URL extensions such as .net and .org. We recommend using the .com domain suffix for your domain if you want more users to quickly find you on the search engines.
In the next sections, we will cover how to select the right brand and domain for your company.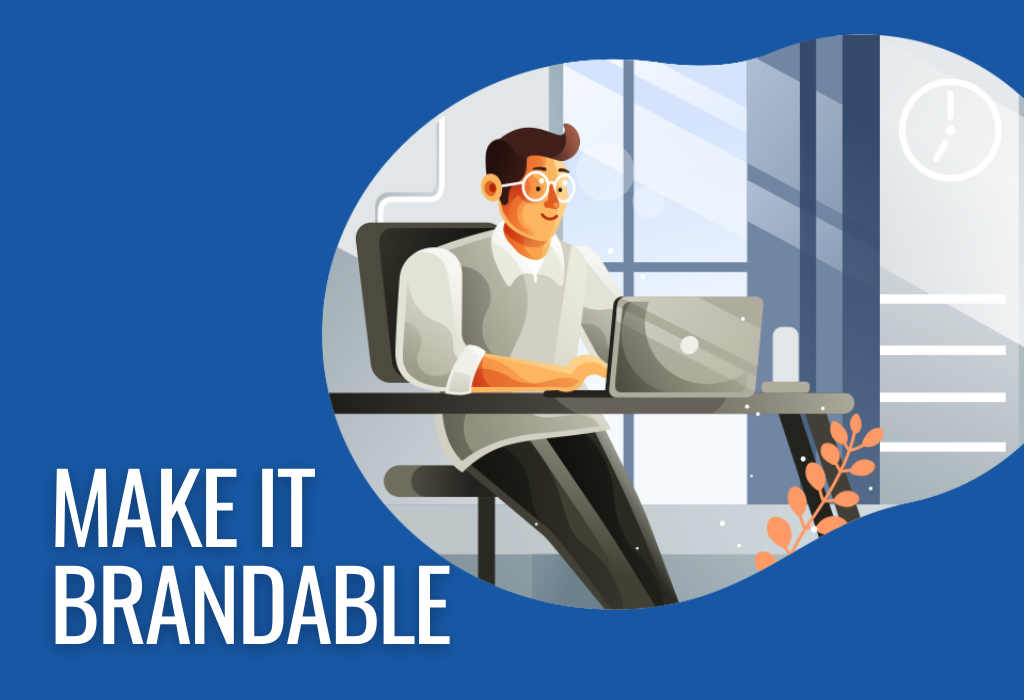 What You Should Consider When Naming a Company
Naming a business is a challenging task for new entrepreneurs. The name that you choose for your business can be your strength and also your weakness if not done right.
To help you create a perfect business name, here are some factors that you need to consider:
Branding
You need to set your branding first before thinking of any business name. Identify the image that you want for your business, your target audience, vision, as well as your mission.
Once you identified what your brand is all about, it's time to start brainstorming your potential business names.
Make your business name easy to spell and pronounce.
People get annoyed by words that are hard to spell and pronounce. This also applies to your business name.
To make your business memorable to your potential buyers, make it short and simple. Don't play with the spelling to make it unique.
We also recommend not to use complicated acronyms. If you find it hard to come up with a name for your venture, a business name generator can help you with many business name ideas.
Consider your state's business naming guidelines.
Always do a state search before choosing a business name for your new business. Your business name is your trademark and is protected by federal and state trademark law.
The state trademark law prohibits the use of a trademark which can be a business name, a logo design, or a sign that is already associated with any business. It's also unlawful to use a business name that is confusingly similar to a business in the same industry.
Be clear with your business entity structure.
One thing to remember when naming your business is to consider your entity structure. Do you plan to have a sole proprietorship, a corporation, or a limited liability company (LLC)?
If you set up your new venture to be a corporation or LLC, you will be required to use a business name identifier such as "corp.," "inc." or "LLC" to your brand name. Check with your state for other regulations and naming options as they may also prohibit you from using certain names.
Use of the .com domain extension for your domain name
When naming your business, you should also consider thinking about your domain name if it will be visible online. As we already discussed earlier, the use of .com for your business is very important.
Several studies have revealed that .com is the most trusted domain extension. It's expected that people will go for something memorable, easy to type, and something that they have an association with.
Using .com can play a huge role in directing traffic to your site. Websites using this extension are considered more authority than sites that use other URL extensions.
Ideas for Naming a Company
Choosing a brand name for your business involves a lot of brainstorming, research, and planning. Although there are tens of thousands of business name ideas to choose from, you should make it a point to choose a business name that tells what your business is all about.
Make it brandable.
Brandable names are better than generic names. Make your branding efforts count by thinking of a name for your brand that is unique.
A unique name sounds good and stands out from the competition. On the other hand, a generic name is associated with many businesses, making the users easily forget your brand.
Check out these business name ideas to make the name of your company brandable:
Use a business name generator to help you arrive with the best business name idea.
Formulate new words. This is the best way to come up with a unique but memorable name for your business.
Use existing words. You can use the dictionary to find some useful words for your great business.
Keep it short.
In generating a great business name, shorter is better. A short brand name should be two to four syllables the most.
A few examples of short names of companies include Coca-Cola, Lush, Accenture, and Red Bull. Other companies use acronyms for long names, such as KFC for Kentucky Fried Chicken, Tesco for TE Stockwell and Jay Cohen, and BMW for Bayerishe Motoren Werk.
It's a priority to consider the character count when formulating your domain name. Go for six to 14 characters long for best results.
Do not use hyphens and numbers.
You should have a name for your business that is easy to spell and pronounce. Therefore, adding hyphens and numbers, make it complicated. Stick to letters. While it may be tempting to use a hyphen because it is available, we suggest avoiding them as they are no longer popular for domainers and businesses.
Use niche keywords.
Another trick to come up with a good business name idea is the use of keywords that are relevant to your niche. It's best to use keywords at the beginning of your business name as it also applies in formulating your domain.

How to Choose the Best Name for Your Company
You should remember not to choose a brand name that is similar to other businesses in your industry or location. A unique business name can set you for success in terms of competition in the search engine results.
We know how challenging it is to come up with catchy business names, we're here to help so we listed these takeaways:
Brainstorm some business name ideas.
The initial step to naming a company is to go through the brainstorming process. Invite your business team to collaborate for some creative business names.
Take some ideas in naming your small business from traditional names to something that elicits positive emotions. You may also look for ideas to name your business from your competitors.
Of course, you're not going to copy that. However, it may give you an idea of how to formulate it using relevant names.
There are a lot of techniques to get your creative juices flowing. You can brainstorm many times until you have decided on a name for your great brand.
Brand Identity
Always go back to what your brand is. List tons of company name ideas that pertain to what you do, what you offer, and who you're targeting.
You can use keywords in formulating the name for your business. This will make it easy for you to appear on the search results when someone is looking for certain keywords.
Do some research.
Always start with the basic Google search to check domain availability. You may also use a hosting website to find out the domain name availability.
You can check different social media sites to know if it is already taken. Access the U.S. Patent and Trademark Office and use the tool Trademark Electronic Search System (TESS) to know if the name you want for your business is already registered.
Doing this will help you know if the brand name and domain name are already taken by someone else or not. If it is, and you really want to get it, you'll know what steps to take.
Claim the name of your business.
After finalizing the name of your business, it's time to make it official. Whether it's a partnership, LLC, or corporation you should register your business in your state.
If you have a sole proprietorship, check if you need to register it on a state level or county level. Entity name gives you protection at the state level while having a trademark protects you at the federal level.
While you need to claim the name of your business in your area, you also need to protect your domain. You need to register it as soon as you've finalized it to avoid others from claiming it.
The Top Common Mistakes with Business Name Ideas
Choosing a name for your business is not easy. You may come up with a lot of business name ideas that make it even more confusing.
Aside from that, you should consider everything from trademark, domain, copyrights to social media handles. Once you've chosen a name for your brand, it's final.
To avoid committing the same blunder that others did, we've compiled some of these common mistakes:
A company name that's difficult to spell, pronounce, and understand.
Choosing a company name that confuses the users is a recipe for disaster. A good business name should be easy to spell, pronounce, and understand.
Just imagine if your potential customers are searching for your brand or your products, but they don't remember your brand name? There's a chance that they will find other brands instead of you.
A memorable brand name will make you stand out in the market. Keep your company name short and direct. You should practice saying your business name to know how it sounds to your target audience.
You forgot what your brand is all about.
Another common mistake with business name ideas is that some business owners forget what their brand is all about. The naming process can be tricky.
Before thinking of generating a catchy business name for your company, think about what your business is all about, and what image you want to carry around your brand.
Failure to do a trademark search.
You don't want to commit the same mistake that some business owners do when searching for their business name. Promoting your business using a new company name without doing trademark research can delay your progress.
You don't want to do this mistake and later find out that the business name is already taken by someone else.
Limiting your business.
Choose a business name that doesn't limit your company's capacity to grow. For instance, a lot of businesses are using a geographic business name.
However, have you imagined what will happen if your business tries to expand to other locations in the future? You see, formulating the name for your business involves your business plans in the future.
Check out these examples: American Express, Boston Scientific, and California Pizza Kitchen, and Arizona Tile that use a geographic business name.
Help in Creating a Business Name
We know how hard it is to come up with a unique and memorable business name. You may have researched, and used tools like a business name generator to give you some business names ideas, but still haven't come up with the best name yet.
Take a look at these catchy business name ideas that will inspire you for your business:
Baketasty
Bottel Bay
Crispy Crust
Foodness
NewsView
Shoe Ship
Happy Tap
A catchy business name should be interesting and easy to remember. A unique business name usually rhymes.
Include keywords to create a catchy brandable business name. You can use a company name generator to make your job easier. Here are some examples that the largest, most recognizable brands:
Amazon.com
Google
Alphabet
Nike
Tesla
Twitter
Kodak
It's surprising to know that many businesses still come up with the wrong business name for their company. What could have probably gone wrong?
We pulled together some of the most ridiculous business names that were used by companies:
Examples of Bad names for Companies
Morning Wood Company
Knobs 'n Knockers
Sam & Ella's Chicken Palace
Chew-N-Butts
Passmore Gas
Analtech
Amigone Funeral Home
Spruce Springclean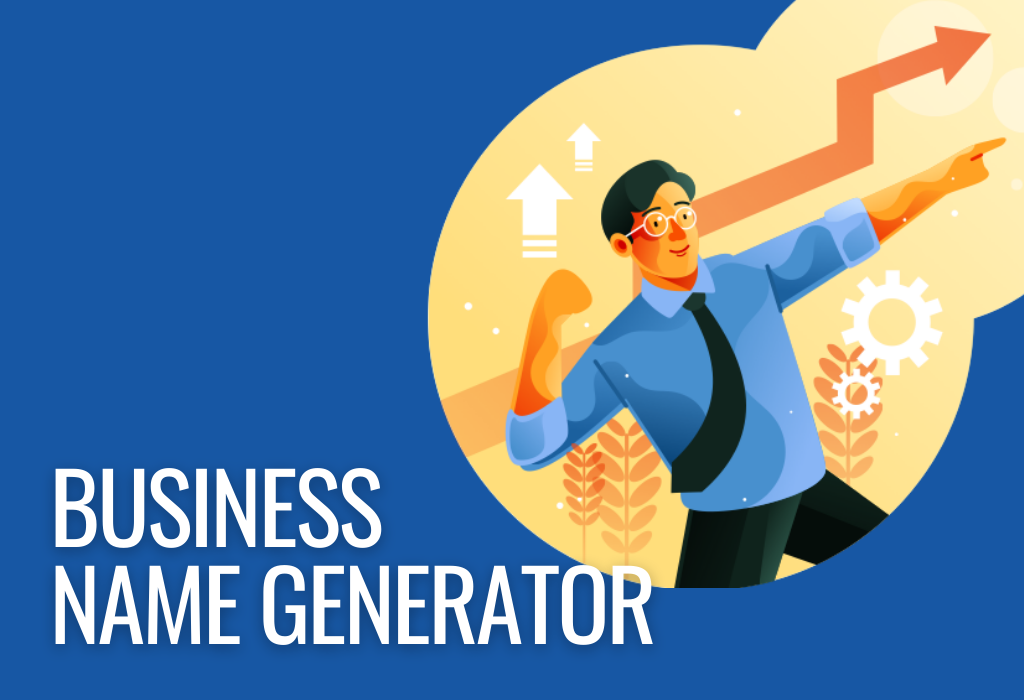 Business Name Generator: A Company Naming Tool
We all know how difficult it is to think about generating your own company name. It takes a lot of hard work, brainstorming, and research.
This is where a business name generator comes into place. A business name generator streamlines this long tedious process of finding a name for your business.
What is a Business Name Generator?
A business name generator is a company naming tool that helps in finding company names that use a particular keyword. It then suggests you a unique and catchy name that's available for your business.
It's a great help for entrepreneurs in getting a good name for their business. It may pick up some combined keywords or related terms to give you name ideas.
There is a free business name generator while others are paid. You simply input a keyword and the business name generator will suggest business names for you.
What are the benefits of using a business name generator tool?
It saves time.
It only takes a few minutes to get new names for your business. It cuts the time you devote to research and brainstorm.
It avoids getting similar company names.
A company name generator only provides available names for your business. It doesn't suggest names that are already registered or trademarked.
It promotes branding.
Using targeted keywords or related terms ensures that you get a name for your company that reflects your brand.
It suggests a unique business name.
A business name generator tool suggests unique names that you haven't thought about.
Make sure there are no other companies with the same or very similar names to avoid confusion among customers
When you started your business, you know how much time you devoted just to get creative juice ideas on naming your business. But how do you avoid getting similar brand names especially in the same location or industry?
You need to protect the intellectual property of your business and that doesn't exclude the name of your business. If not, it results in confusion and legal issues, especially in this digital age.
Here are some ways to protect the name of your business:
Register the name of your business or file a DBA.
The first thing to do to formalize the name of your company is to register it in your state. DBA stands for "Doing Business As."
DBA refers to how you want the public to call your business. DBAs are also known as "assumed name," "fictitious business name," or "trade name."
The purpose of DBA is to let the public know that your business is operating in a different name other than your legal name. After filing your business DBA it's now time to trademark your business.
Register your domain name.
Aside from your business name, you need to ensure that your domain name, email address, and website are registered under your business name. It's necessary for all websites.
Doing this builds your credibility, boosts brand awareness and helps in establishing your online presence.

Trademarks and Protecting Your Brand
Trademark your business.
To protect your brand from potential risks, you will need to trademark your business name at the U.S. Patent and Trademark Office to have another level of protection for your company. It protects your intellectual property, including names, symbols, colors, and sounds against the misuse of others.
Your brand name is one of your most significant assets. Just like other company assets, you should protect them from misuse by others and riding off the back of your company.
When you register your corporation or LLC in your state, no other companies can use the name of your business. If in case you have future plans of expanding your business, we suggest that you get federal trade protection for your brand.
Do a trademark search on Google Trademark Tools to make sure no one else has already claimed your desired business name
Before getting and finalizing any name for your brand, it's wise to do a trademark search on the Google Trademark tool. You want to ensure that the trademark is available and no one is using it to avoid any intellectual property infringement.
Use the USPTO website to register your trademark with the U.S. Patent and Trademark Office
If you want another layer of protection for your business, you need to register your trademark with the U.S Patent and Trademark Office. You may access their website to do a trademark search, apply for a trademark, and read the information on how you can renew your trademark, how you can protect it, and the laws and rules that govern trademarks.
Final thoughts on naming a business
Deciding on your company name is one of the first steps to take in building your business, but it is certainly the toughest decision to make. What will make you stand out from the competition?
The name of your business does all the hard work. It tells everything about your business, so it deserves all your time on how you'll choose the best one.
Once you have it, it's time to protect it. It has the power to make or break your business.
To learn more about rebranding your business and obtaining the right domain name, visit our marketplace to learn more.